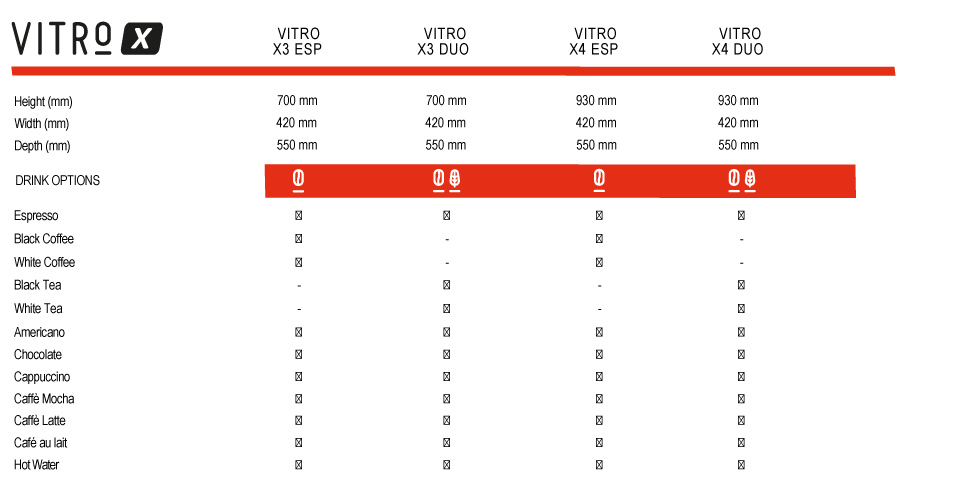 An incredible design for a surprising machine
The Vitro X series attracts attention due to its contemporary, minimalist design that includes new technological trends. Its back-lit touch screen, patented by Azkoyen, creates a user interface that is simple, intuitive and interactive.
However, Vitro X is much more than a designer machine. It includes the latest Coffetek technology to make drinks with extraordinary flavour and quality, plus functions that increase productivity and profit.
Drinks that surprise you with their body, aroma and flavour.
Vitro X has been developed to serve high quality hot drinks at the touch of a button.
The range incorporates Coffetek hot beverage production technology, from real, aromatic espresso coffee to delicious tea infusions brewed from real tea leaves.
Make your drink bigger at the press of a button!
Accessories to adapt Vitro X to your business model.
Designed to make your operations more profitable, we have developed a complete range of accessories that let you adapt Vitro X to your business model.
Among the most popular accessories are:
Stand: Sturdy and elegant, it is available with or without a cup dispenser.
Change-giver: For use in payment per service mode
Cup-warmer: Perfect for maintaining the temperature of drinks in cups.
Coffee Corner: An incredible case for providing a coffee vending service in places as varied as petrol stations and shops.
Easy to programme and maintain
All Vitro X models have USB connectivity as standard that can be used to copy and paste programmes and accounting reports with ease.
In addition, programming and set-up is very easy thanks to its keypad with display integrated into the door.
The technology used by Vitro X has proven reliability and durability; it is widely recognised in the demanding British market and will help you to reduce maintenance costs and increase the life of the machine.
The Vitro X series has a ldquo;rdquo;Go largerdquo;rdquo; function to make larger, coffee-shop-sized beverages.
Azk V10 Espresso Group
The renowned Azk V10 espresso group guarantees perfect distribution that maintains all the aroma and flavour, achieving coffee with a good body and consistent creaminess.
The secret of the Azk V10 unit is its perfect coffee pressing, holding back the water flow to enhance extraction of the organoleptic properties.
In addition to its outstanding operation, the Azk V10 group has proven for years that it is reliable and long-lasting.
Increases the loyalty of your clients
Increase the number of services per day